The End of The Mortgage Pain Is On The Horizon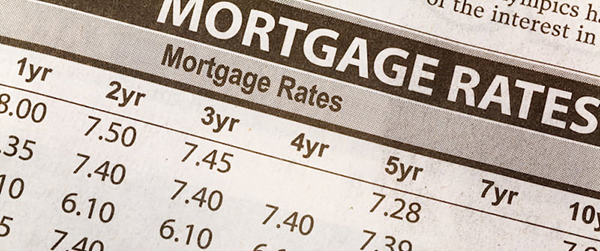 My Grandma always said, if you have nothing nice to say, don't say anything! So, here we are; it has been a couple of months since I sent a newsletter (I get stuck). Any updates I would have sent would have contained a lot of obscenities. Well, maybe not that bad, but maybe.
The good news, there are lots of good things to say now. First, we are ending the rate hikes. Many economists say that the Governor of the Bank of Canada has already overreached. But that's here nor there at this point. Inflation is slowing and starting to come down. Once Canadians with ultra-low mortgage rates come up for renewal, I expect to see consumer spending slow even further. Canadians, including myself that are in adjustable rate mortgages, are already feeling the pinch of the rate increases. Those in a sub-4 % mortgage have yet to feel the full force of inflation.
Do I still believe in the adjustable rate mortgage? 100% this is but a hiccup in time. Period – see attached schedule. Overall an adjustable-rate mortgage outperforms a fixed rate. When will the pain end? By the end of 2023, barring another global event, we should start to see a decrease in the Prime rate. These increases we have been experiencing are temporary. Again, barring another global event, I do not see us seeing fixed rates below 4% anytime soon. In short, the end of the pain is on the horizon. There will be an increase on Wednesday; 0.25%, I believe. (0.25% = $12.00 per $100,000.00 monthly)
There are many opportunities during a recession, be prepared to receive them. One of my favourite people always asks, "are you recession-proof?" This question always lingers in the back of my brain.
For the last few years, some of us have been spending like drunken sailors. We were spending on renovations and luxury items. Why not? Life was cheap. We increased the value of our homes, and for some, it was just FOMO. Not so much anymore. Tightening the financial belt is not something we have had to deal with in some time, but why not now? Let's get back to being creative. I have an ambitious goal to pay off my mortgage before I turn 65, which gives me 11 years, although I am reaching for six years as my stretch goal. Not likely, but maybe. What does this look like financially? Well, let me tell you. I am a horrible saver, but I am very good at paying my bills. I have always treated my savings as a bill. So, now I'm treating my mortgage interest as another bill that needs to be paid separately from my mortgage payment. You may recall the many emails I was sending to increase your mortgage payment. Well, here's me practicing what I preach.
As soon as the Bank of Canada increases went beyond what they said they would increase (2% over two years), I increased my mortgage payment by as much as I could manage. The consequence of that decision is dinner out, which may only be once a month. For the foreseeable future, friends will come for dinner instead of meeting at the pub, buying cheaper cuts of meat, using my sous-vide to make tender, and getting creative in the kitchen. It's easy to be a good cook with expensive cuts of meat. What can I do with inexpensive cuts?
I'll be hanging out more of my laundry to dry. I made my own house cleaner with orange peels the other day… That wasn't so much a cost-saving but an experiment that saved money. I'm not a big believer in commercial cleaners; they are too expensive, to begin with, but what it does to the environment is worse. And the most challenging cost cutting measure will be not traveling as much as I like. But, if I pay down my mortgage faster, I will have more time and money later to travel. I think they call this deferred gratification?
It's the little things that add up. Take an afternoon to see what your little things are costing you. Recessions can be good. They teach us a renewed respect for our money. I don't know about you, but we could all learn from our (great) grandparents. They were the original savers, recyclers and spendthrifts. Call the senior in your life for advice if you need help figuring out where to start.
How will you curb your spending? What tricks do you have to share? I want to know. Please send your tricks and tips and get a little surprise from me as your reward.
Lastly, the upcoming recession will bring gifts, not just pain, like the pandemic. If you have extra cash, it's a great time to invest in your RSP. Stock and ETFs are cheaper. If you invest in your RSP, take the generated refund, pop that on your mortgage principal, and bring down the balance. BAM. Just like that, your money is working for you twofold.
Please email or call me if you or someone you know needs a little help during this transition. I am here when you need me.
---
Walter Update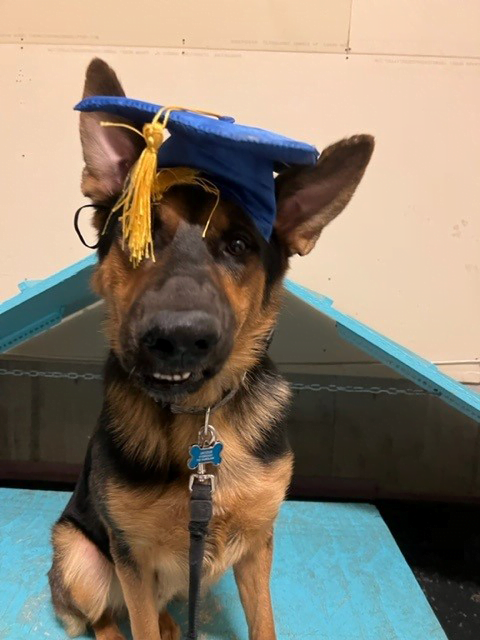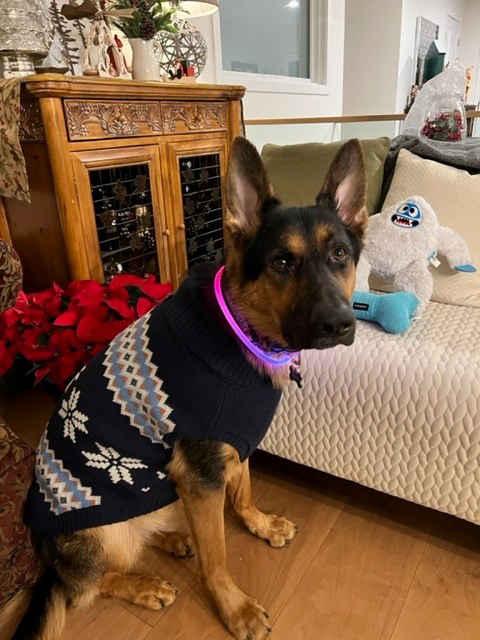 Walter graduated from advanced training. He was so happy he was smiling in his grad picture. So sweet. He did great.
Weight – 92-96 pounds depending on the day. He is now starting to fill in.
Age – 21 months.
Walter has been seeing an allergy specialist as he's allergic to everything, yep, everything. Not a week goes by that he doesn't have an ear or eye infection. The good news, after a lot of time, money and medication, we may have it under control. He was tested and allergic to grass, cats, mites, and dust. Plus, almost all proteins except venison. He's a real treat. On the upside, he's still a massive goofball and so sweet.
---
Fixed Rate
IMPORTANT: If you have a FIXED rate mortgage;
People with low-rate mortgages need to pay attention now and move forward – you need to start increasing your monthly mortgage payment or just practice.
What I mean is that when the fixed-rate mortgages come up for renewal, the interest rates will be in the 5%+ area, meaning the variable clients will be accustomed to the new rate scene, and you won't be.
Fixed-rate clients will be in for a massive payment shock. So I suggest you start acting like your payment is already at 5.25% and start budgeting and putting money aside as if your payment was already at 5.25% so that when the time comes, the increase will not hurt as much. Plus, whatever extra you set aside in the mortgage bank account from budgeting, the higher amount can go towards a lump sum payment towards your principal.
For example, if your existing payment is $300 every two weeks, start putting aside $325.00 every two weeks for a few months, then increase it to $350.00 and so so on until you reach what the payment will be at 5.25%. If you continue to budget at 5.25%, the extra funds in your bank account can go towards a lump sum payment bringing down the principal at maturity. BAM.
Now, could you wait? Hey, Jacquie, I can't afford this. I'm not made of money. I can't go from 1.89% to 5.25%. That's crazy. YES, YES, you can and here's why YOU HAVE NO CHOICE. That's what the rates will look like, what they do look like now. You might as well get used to it sooner rather than later. AND you qualified at 5.25% for the mortgage application, so I know you can afford it. 🙂
Here is a calculator to determine what your payment would be at 5.25%
Use 25 years for the amortization to get you started
Use your original mortgage amount – or a close estimate
Use 5.25% for the rate
---
The Bank of Canada is Widely Expected to Deliver its Seventh Consecutive Interest Rate Hike at its Rate Decision Announcement This Week.
What's less certain is the size of the move, with markets and experts split between a 25- or 50-bps increase.
"Policymakers have done little in recent weeks to provide any clarity here, and economic data has been yielding mixed messages," economists from National Bank of Canada wrote in a recent research note.
---
RBC Says a Majority of its Mortgage Clients Can Absorb Higher Payments
The comment was made during the bank's fourth-quarter earnings call on Wednesday. RBC announced net income of $3.9 billion in the quarter and full-year profits of nearly $16 billion, both of which were down roughly 2%.
---
"The Variable Customer is in Good Shape," Says Scotiabank
Scotiabank reaffirmed the strength of its variable-rate mortgage portfolio, despite the higher costs faced by borrowers due to rising interest rates.
The comments were made during the bank's fourth-quarter earnings call on Tuesday, in which Scotia reported a 20% year-over-year drop in net income, but also an 11% increase in mortgage volumes.
Rates

Hold on to your seats:
Prime: 5.95%
The next Bank of Canada meeting is December 7/2022
High Ratio Mortgages – default insured
5 years: 4.99%
10 years: 5.94%
Prime 5.95%% – 0.90% = 5.05%%
Conventional Mortgages – 20% down or greater
5 years: 5.29%
10 years: 6.00%
Prime 5.95% – 0.65% =. 5.30%
Refinance
5 years: 5.44%
Prime 5.95% – 0.40% = 5.55%
Rates are subject to change at any time, these rates should be considered a guideline.
Share this article on  your favourite platform