Jacquie's Real Life HGTV Experience!!!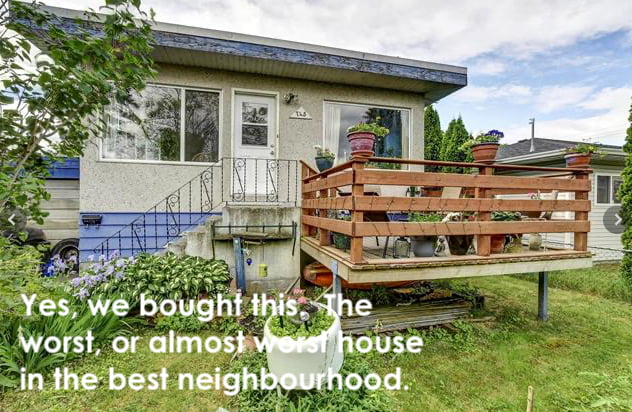 If you've ever heard me say something like "oh, if you're doing a major renovation, make sure your relationship is healthy" or "house building is a long, tough road but it will be worth it in the end", you might wonder if I have a touch of personal experience behind those words of wisdom. You tell me! Strap yourself in and get ready for a wild ride of a story.
Some of you may recall that last autumn, Klaus's company was bought out and he was released from employment. Boo! However, when a door closes, a window often opens. Klaus was offered a new job – but in Vernon, British Columbia. It wasn't just any job but his dream job at that and he was ecstatic! A change was underway, for both of us.
Fast forward to January of this year. We bought a house in Kelowna sight unseen, an HGTV style fixer-upper, the worst, well almost the worst house in a wonderful neighbourhood. And it's not just wonderful. It's the kind of neighbourhood you want to grow old in.
March arrives, blowing in cold winds, something called Covid, and all kinds of change. Selling a home, packing a home, moving cross country during a pandemic…. let's say it was fun and leave it at that.
We hoped for sunnier times in June when we took possession of our new home. But before any rays of light could shine in, we needed to have the house abated, and so it went. A renovation turned into a full gut, down to the studs; the only thing left in its original state was the exterior walls and the roof. Our budget, and it was a generous one, went flying out the window along with the unwanted fixtures and outdated materials. Instead of writing the entire saga, I'm going to lay it all out in photos for you and video. A picture is worth a million words when you add a video.
So am I still married? Barely. Just kidding! We made it, but not without moments of frustration and maybe a harsh word or two. But at the end of the day, we laughed it off and realized it would all be over soon. Construction is temporary and I am living proof that all big projects eventually come to an end. We moved into the house last week, finally. After a long four months, we can call our almost-finished house our home. It's delightfully small and lovely. When spring arrives, I'll plant a garden or two and create a serene space to relax and entertain—ah, spring. I can't wait.
Throughout it all, work marched on. Clients asked "Oh, Jacquie, you live in Kelowna?" and "Are you still my broker?" YES. Yes, I am still a mortgage broker. Can you imagine giving this up? I've had way too much house drama in my life to get out of the business now! Over the decades, I've had many sales and purchases. I've gone through the rhythms of a mortgage refinance, a separation, a rental-purchase and sale, a renovation, a flood, a kitchen fire, and now a full gut with a rebuild. All of these experiences allow me to give my clients genuine support and understanding of their situation. I can empathize.
I am licensed in Ontario; I am not starting a business in British Columbia. I may live and sleep in Kelowna, but I wake up and work in Ottawa every day. When you want to call me at 7:00 PM and think it's too late, it's only 4:00 PM for me. However, when you want to contact me at 8:00 AM, don't. Send me a text, and I'll call you right back. : )
After a year where the world and a house threw everything it could at me, here's what I learned:
Be bamboo, strong, but flexible.
Laugh at the end of each day, maybe with a glass of wine.
End each day with a recap email.
Have you lived through a renovation or full teardown? What did you learn? If you are thinking of a renovation or maybe even a build, call me, I am here to help, and I have the first-hand experience to get you started.
The answers to frequently asked questions
Yes, that is black mould – it was caused by poor ventilation in the bathroom and kitchen
Yes, that is asbestos – we had the house abated before the demo
Yes, it smelt even worse – it smelt really really bad
No, they did not do one inch of work in the house. There was a large mound of dirt in the basement that we later found out was cat litter, used cat litter.
Yes, I sent the best of the worst shots. There were areas of the house that should have been contaminated and far worse photos.
Yes, I actually paid for this house.
The actual square footage is 930' ;- it now a 2 bedroom up and 1 bedroom down home, and my office commute is really short. I love my garage office with the hobbit door. Video to follow when completed.
The upside, it's 2 blocks from everything. 3 blocks from the lake. I can bike and walk everywhere
The project started the last week of June with the abatement – we should be in the house by the end of November
Lastly, Yes, we might be a little crazy, the process really hasn't been too bad, expensive and we will need to work for another year longer, but in the end, worth it.
Share this article on  your favourite platform