Home sales hit record in 2020, Canadian Real Estate Association reports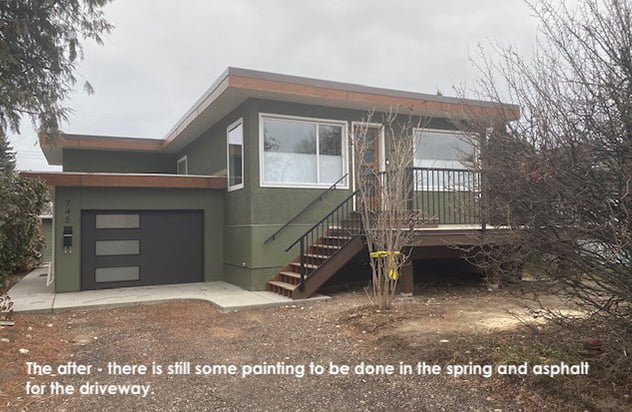 I want to start by apologizing for the number of information emails you may have received from me lately. In our continued effort to offer a smooth process for my clients, I adopted a new system, and like anything new, there's bound to be a glitch or two. I promise it is never my intention to spam you or burden you with an inbox full of mortgage mail. Thank you for your patience and understanding.
Since the beginning of the year, I've been connecting with my clients and having terrific conversations. I've noticed a trend; It seems every other call included news of a baby-bump, the arrival of a baby, or a grand baby is on the way. I hope the municipalities pay attention to the delivery numbers; I think there's a need to build more schools. I am thrilled for these families and have enjoyed the many photos I've received.
The other topic that comes up is "how's the renovation coming along?" Well, we are almost settled-in. We moved-in in the middle of November, and we have unpacked all the boxes. There is still a long list of projects to complete, some small, some larger. Some more challenging, like picking the "right" fabric to recover the sofa and chairs one day. All in. good time. Be patient.
Surprisingly, It is easier than I thought to adapt to living in 930 square feet, down from 2800 sq feet. We affectionately call the house a condo with a basement. It is surprising how much you can live without? I have been purging for several years since the kids left home. You may remember the newsletter I wrote a few years back about leaving a box at the backdoor.
Leaving a box at the backdoor made it easy to put freshly washed items in the donation box; the box goes into the car and then off to the charity shop. The new box goes to the backdoor and repeat. It's a simple way to remove unwanted items from your space. I'm actually at the point where I enjoy repurposing, releasing or donating things that take up space but do not serve a purpose anymore. Even when it's tough, I remind myself, it only hurts while it's in my hand. Once I release the item to the box, I no longer miss the article; it's no longer mine. I only think about the object while it's in my hand.
With the majority of the renovation complete, we now face the financial ramifications, time to pay the bill, and yes, we went over budget.
Although the fixtures we chose were pleasing to us, they were not high end, nice, but not fancy. The real dollars were spent on things you cannot see: insulation, wiring, ducting, plumbing. We decided to use better quality materials in these areas and adapt the space for our future accessibility needs when we are older. We were looking at the long term, but planning for the future has a cost, and yes, we went over budget.
Deciding to put decking in while we had the machinery to put the footings in for example, was a logical decision, but added to our continuous growing budget, heck, it was not a budget anymore; it was a blurred guideline.
We still feel these were cost-effective decisions and overall long-term savings, but they are still decisions that impact our finances in the present. In the end, we decided that refinancing was the right route., we took equity out of the property to pay for the renovation overages. Read more about refinancing
Financially this is the right decision for us; we are content.
We now have our forever home, in the neighbourhood we want to live in and now retire in (one day). The house is fit for when we are older and may need mobility assistance. We have a plan for repayment, although we may have to work a little longer, but who needs to retire?? 🙂
If you are planning on a build or a renovation, big or small, call me; I am happy to help you through the process, point out the obstacles to look for, options you may not have thought of, and situations you may want to consider for the long-term.
See below for the before and after pictures.
As you may know, I go to sleep and wake up in Kelowna, but I go to work each day in Ottawa. Seeing as I can't fly to Ottawa, we created a dedicated office to work from. Everyday I leave the house and walk in the office and go to work in Ottawa, the commute is awesome. It took some time to get to the timezone changes and scheduling but now, Im loving it. My clients are happy to have greater accessibility to evening appointments, its a WIN!
Home sales hit record in 2020, Canadian Real Estate Association reports
The record-shattering December marked the sixth consecutive month of year-over-year home sales hikes, after the COVID-19 pandemic led to shutdowns across the country in the key March to May home sales season.
"This sweeping strength in sales heavily suggests that what's driving this market are broad overall factors, and not local economic factors. Specifically, the plunge in interest rates last year and the pandemic-driven move to upgrade have lifted all markets," said Douglas Porter, chief economist at BMO Capital Markets Economic Research, in a client note about CREA's report.
Continue reading
Share this article on  your favourite platform