Inflation, The Bank of Canada, and Rising Rates. YAWN!
Happy New Year!! The first newsletter of the year should be filled with light and fluffy news, right? Wrong! Today, we will chat about inflation, the Bank of Canada, and rising rates. YAWN! Ok, there will be a Walter update as well.
I think the next 24 months will be a bit bumpy as the Government tries to figure out how to curb inflation.
My humble opinion: I think it won't be too long until we have more people back to work. Right now, we have one person with Covid – Omicron and five people in quarantine (my guess) because of the one Covid infection. That's a lot of the workforce out of the picture. Who hasn't walked by a shop door lately that said, "Closed due to Covid." heck, I showed up for my plasma donation appointment, and the lights were off, and the doors were locked with a sign that said, "Closed due to staff shortage and Covid."
However, once enough people have Omicron, which should be soon-ish by the infection rate? People will return to work, production will increase, supply will meet demand, and we will be back in business.
Once supply and demand meet again, inflation will start to fall. The Government is trying to slow demand by raising rates so that supply can catch up. There are more layers, but this is my summary. So, we will see interest rates rise to curb our appetite for spending over the next twenty-four months. But, again, this is my narrow opinion.
If you are a fixed-rate mortgage holder, your concerns are few unless you are coming up for renewal within the following year. If your rate is less than 3%, you will feel the pinch when you renew. Although there are no escaping rising rates, you may want to consider an early renewal or refinance to secure a lower rate now for the next five years. Call me; we can discuss the best way to move forward.
If you are a variable rate mortgage holder, those ultra-low rates you've become accustomed to will start to rise. I expect the rate increases to begin in March, and the Bank of Canada will increase the prime rate three more times throughout the year.
If you recall, between 2018 and 2019, we had seven increases, and then our dear friend Covid entered the scene, and the rates fell fast to get us spending. So we will return to where we were pre-pandemic; it's not scary; we've been there before.
Now for the lecture…
When we chose the variable rate mortgage, we discussed the benefits, low rate, more of your payment going towards the principal balance, greater flexibility and of course, low penalties. But the strategy is where the gold is. Did you change your payment to reflect the fixed-rate payment at the time or increase your payment? For those who did, well done! For those who may have forgotten and are only making the required payment, that's ok; you are still paying less interest, but you might want to start increasing those payments; it really does make a difference.
I was chatting with a long-time client just today who didn't realize how much time they shaved off their mortgage with a small addition to their bi-weekly accelerated payment. They were so relieved to know they only had ten years remaining instead of the 15 years they believed, as they were planning for retirement. Payment structure makes a difference.
See the image below of the impact. The illustration does not take into affect Bank of Canada increases.
Ok, now for the good news. Even with the Bank of Canada increases, you are still saving on the interest along the way. As I always say, why pay the bank more interest for the privilege of a regular payment? Just create your own steady payment.
See illustration with four Bank of Canada increases.
REMINDER – Math
Remember an adjustable rate mortgage means, your mortgage payment will increase or decrease with the BoC overnight lending rate.
It is important to note that .25 = $12.10 on $100,000.00. Meaning an increase or decrease will change your payment by $12.10 on each $100,000.00. For example, a $300,000.00 mortgage will see a change in the monthly payment of $36.30 with each .25% change of the Bank of Canada. The BoC meets six times a year. You may lock into a fixed rate term at any time during the mortgage term at no cost to you.
It will be at what the available remaining term rate or the posted rate at the time of conversion depending on the lender.
Call me if you are concerned and would like to discuss your variable rate mortgage. I'm here to help.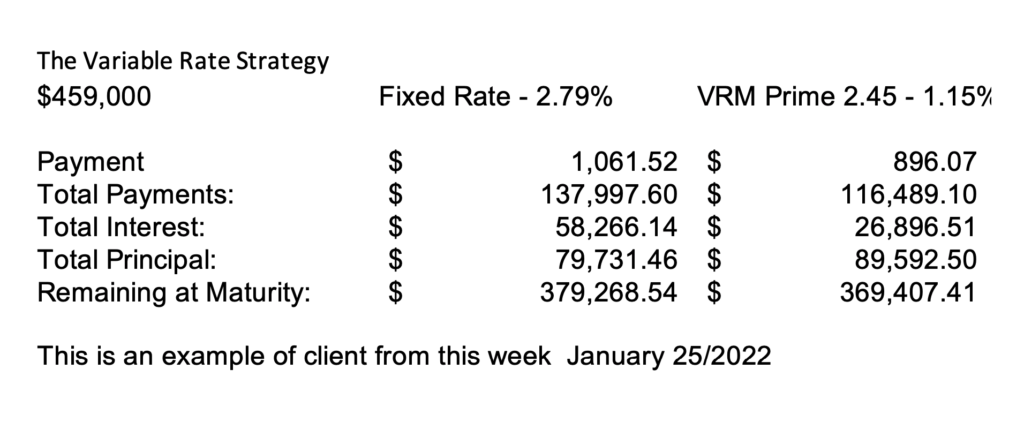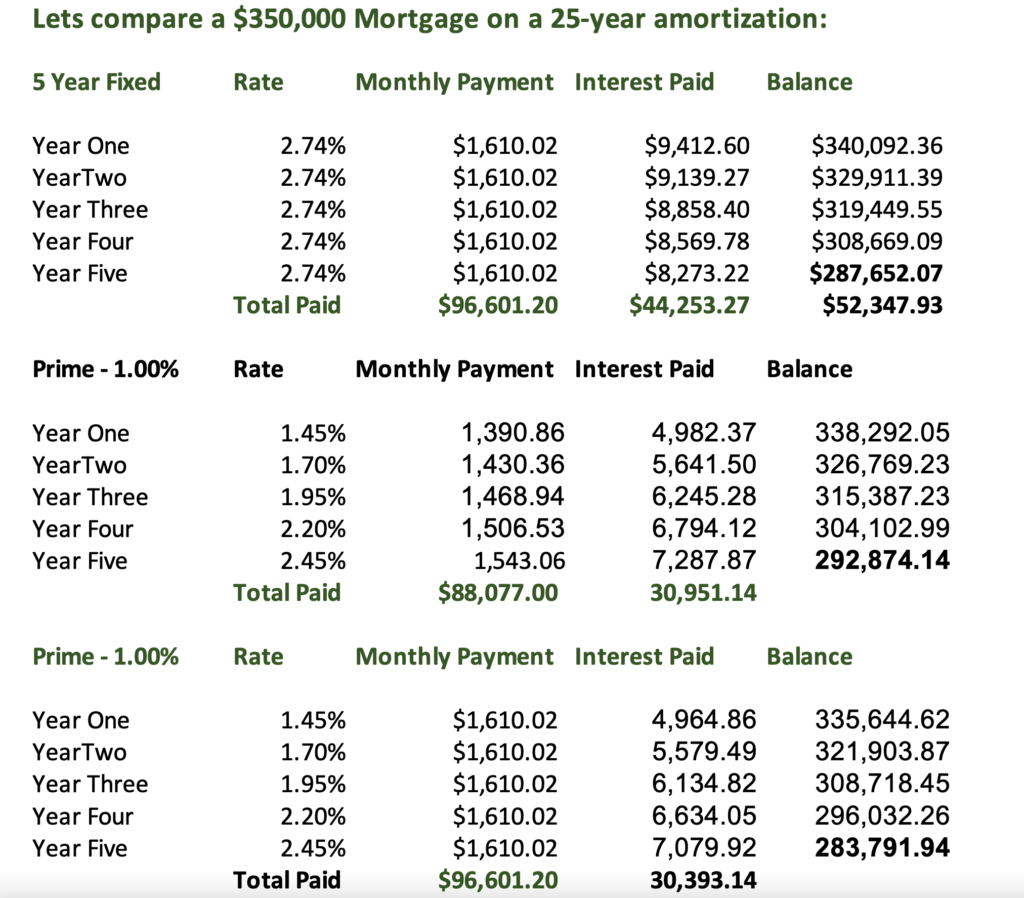 ---
Walter Update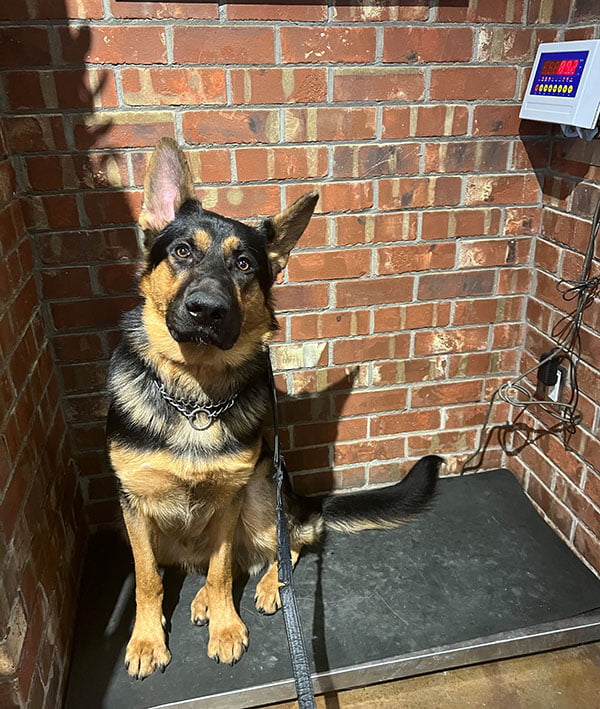 Walter say's Hello. He loves all the attention, especially when clients talk to him on the phone or Zoom.
Weight 90lbs and 10 months old
We booked his snip snip day – March 25th
He starts go away training in May, but he will be receiving some special training when he boards with a former RCMP canine trainer for two weeks in March, we are looking forward to that.
Walter discovered snow and he LOVES it. I mean really loves the cold stuff. I'm not sure what he will do when it's all gone.
And, nope, he still has not grown into his feet or ears.
---
No change to the Bank of Canada overnight rate at .25%
The Bank of Canada announced today that it will continue to hold the overnight rate steady, noting that the recovery continues to require extraordinary monetary policy support. While Canada's economy showed a higher-than-expected resiliency in 2021, new lockdowns and the spread of new variants have put a pause on further expected economic growth. Canada's central bank has ended the bank's provision of monetary stimulus through quantitative easing (stimulative bond buying).
Worsening inflation pressures owing to global supply chain bottlenecks, labour shortages and rising energy costs will likely force the Bank of Canada to begin raising interest rates as early as March of 2022. Canada's inflation rate moved to 4.8% recently, driven by high gas prices, soaring housing and automobile costs and rising food prices and this is well above the Bank of Canada's target rate of 2% that it had hoped to maintain.
Tiff Macklem, the Bank of Canada Governor said, "The challenge here is to bring inflation back to target without choking off the recovery."
The next rate-setting day is March 2nd, 2022.
Now is the time to get in touch for a review of your mortgage strategy. It's important to get advice and a professional assessment of your situation if you want to switch your mortgage for a new rate, need a new mortgage, are renewing, or looking to refinance for debt consolidation, renovations, or other large expenditures.
---
Rates
1 Year – 2.19%
3 Year – 2.49%
5 Year- 2.79%*
10 Year – 3.09%
Variable High Ratio Prime – 1.10% = 1.35%
Variable – Conventional Prime – 1.00% = 1.45%
Prime – 2.45%
* indicates special conditions
Share this article on  your favourite platform