Six Tips for Financial Fitness This Fall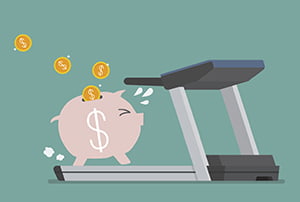 It's almost September, and there is some optimism that we may be moving towards the end of life in a global pandemic. The Fall has always been a great time to go back to school on financial fitness, and this year it may be more critical than ever. Here are some tips to help make sure your finances are fit and stay that way –
Splurge, just a little
Many of us deal with stressors that we didn't even know existed, like not being able to see loved ones. Instead of beating yourself up financially, set aside a few dollars each month to do something intentionally nice for yourself. There is no guilt when spending is intentional, you will not overspend, and it just feels good.
Revisit (or start) your budget
Having a budget is one of the most important ways to achieve a solid financial future. It might not be the most thrilling task, but it will give you a clearer picture of where you stand and how much you can honestly spend. You'll also be able to determine how much money you can allocate to your "live a little" fund.
While preparing your budget, take a fresh look at your monthly bills and go through them line by line. I take six months worth of the bills, all the bills. You may want to do this task with your favourite beverage.
Look for small, unexplained charges, fees, add-ons, and the services you can now live without; it's incredible how much you can save without giving up much.
Maintain your credit
Your credit score is essentially your passport to financial opportunities. It can mean the difference between getting approved or denied for credit and can prevent you from getting the lowest mortgage rate.
The good news is that you have control over your score. That's why it's crucial to have good credit behaviours. The most significant factor to having a good score is paying your bills on time, every time. Ensure you know your credit limits and try not to use more than 50% of the credit limit amount. Don't bother with many store credit cards; if you have two or three good credit cards that give you benefits that work for you, that's plenty.
Focus on your high-interest debt
Always keep an eye on your high-interest debt and pay down your credit cards as soon as possible. If you find that your debt is making things difficult, you may be able to move that debt to your lower-rate mortgage if you have enough home equity. As a result, you could save thousands in interest, have one lower monthly payment that dramatically improves your cash flow, and enjoy much reduced financial stress.
Spend time, not money
We've all gained a new appreciation of the value of being able to spend time with loved ones in person, that it's something to treasure. I think the pandemic has allowed us to recognize that hanging out with the people we care about and doing the things we love is far more valuable than items we purchase.
Help others
Most of us were very fortunate during the pandemic, and many weren't. Then you may want to consider putting funds aside for charities, shop local, tip restaurant workers a bit more than usual, or secretly support a family in need.
If your budget is at the limit, give your time to an organization that stirs you. Sharing does not necessarily mean cash; time, in most cases, is more valuable.
As always, I am here to help. It's my goal to help you maximize your financial fitness so you can build wealth for the long term.
Share this article on  your favourite platform