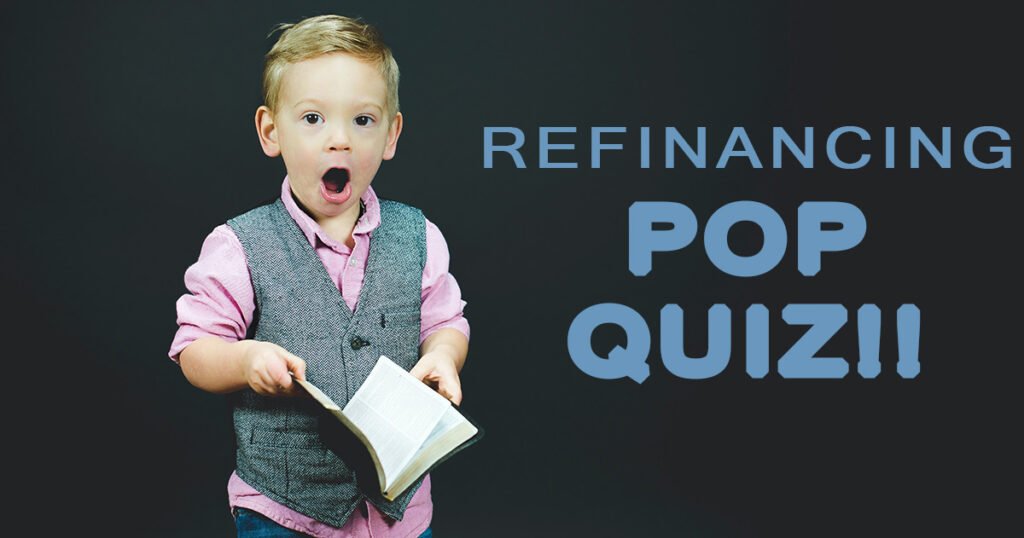 Don't you love this time of year? The little bits of green peeking out from under the edges of the snow. The midday rays of the sun are warming your face—new beginnings. I love fresh starts; they are the best. 
Last month's pop quiz went over so well went over so well, here's part two….
True or False
Question: Is there a penalty for "breaking your mortgage?"
Answer: Possible; True – if you terminate the mortgage during the mortgage term, you will have a penalty. If you have a fixed-rate mortgage, the mortgage penalty will be based on IRD (Interest Rate Differential). If you hold a variable rate mortgage, you will have a penalty based on three months' interest.
The answer could also be false; if your mortgage is up for renewal, then you are not breaking your mortgage, you have completed your contract terms, there will be no penalty, but you will still have a discharge fee.
Question: Can I purchase furniture with the money?
Answer: True – Sure, why not. It's your equity, your money; the funds are yours to use as you see fit. However, it's best to use the funds responsibly.
Question: I have $100,000.00 in equity. Can I take all of the equity out?
Answer: False – Under the mortgage rules, you can only access 80% of the equity in your home; 20% of the equity must remain in the house.
For example;
$500,000.00 – The current value of your home
$100,000.00 – 20% of the equity must remain in the home
$400,000.00 – Available for use – less outstanding mortgage balance
$300,000.00 – Existing Mortgage Balance
$. 7500.00 – Penalty and fees – (there is only a penalty if you breaking the mortgage during the term)
$. 92,500.00 – available for your use –
Question: I want the new lowest rate, is this a good idea?
Answer: Maybe? – I call this rate seduction – just because the rate is lower than the one you currently have, doesn't mean it's better for you or worth breaking your mortgage.
By the time you pay the possible penalty, the appraisal, legal fees, you may not even break even; the truth is in the math. Don't be seduced by a rate; ask questions.
Question: Is it worth breaking my mortgage?
Answer: Maybe? – Each case is individually unique. I find that some clients are more concerned about their mortgage rate but not the credit card, line of credit and personal loan interest rates that are more corrosive to your finances. In most cases, paying out the high-interest debt and getting the monkey off your back is a beautiful way to prepare for a new beginning. A fresh start is a beautiful thing for your mental and financial health.
If you have questions and would like to discuss if refinancing your mortgage is in your best interest. I look forward to hearing from you
Ask Jacquie
Jacquie, what's going on?? Will I be able to get home? It's a crazy market out there!!
Here is my take on what's happening on the housing market, again, my opinion.
Before Covid came into our lives, we had a housing shortage in Ottawa due to qualifying. The introduction of the Stress Test reduced the purchasing power for purchasers. We saw first-time homebuyers and buyers moving up the property ladder fighting for the same homes in the same price range. Many would-be sellers decided not to sell and move up the property ladder as it would have been a lateral move under the stress-test.
Introduce Covid. Everyone is at home. Working from home, entertaining at home, playing at home, resting at home, sleeping, relaxing, eating, everything in our big world was now hyper-focused inside the four walls of our home. For some, their home's limitations became too much and too tight, enter a new home.
While locked down in our home, everything changed.
Strict work from the office only employers that we're now having to adapt and recognizing that employees could work from home effectively. With everyone working from home, people started moving around, moving to more comfortable and convenient locations.
I have clients that sold their homes in Ottawa for more than expected and headed east to New Brunswick and Nova Scotia to purchase homes with cash. Homes are more affordable on the east coast, and now my clients live mortgage-free and are still employed with their current employers.
I have clients that have sold their homes in Toronto and moved to Ottawa for a quieter, calmer and more affordable lifestyle. When you sell a house in Toronto and buy-in Ottawa, you effectively do what my clients are moving east did. When you are from a big city and come to a smaller city like Ottawa, the value perceptions change. This is also one of the reasons people can pay so much over asking. If you sell your house in Toronto for $1.5 million and buy an end-unit condo in Kanata for $700,000.00, you have cash on hand and no real need for financing.
If you are following me, you now have limited houses on the market for sale. People are moving around the province and country; they are no longer tied to an office; you have first-time buyers and people moving up the property ladder. And now, you add in a layer of FOMO – The fear of missing out. FOMO is real. When mixed with our new hyper-focused world, we have no buffers to distract us, like sporting events, family events, concerts, movies, theatre, and extracurricular activities. The fear of missing out becomes intense. If you think you are not going to afford a home in this environment, you may very well be right. FOMO is also driving the market. I thought it was my theory, but it seems the BoC Bank of Canada is saying the same thing. READ ON
In the following year, when we return to our regular activities and our buffers are something other than the MLS and HGTV, we will return to a more balanced housing market. Buffers are healthy. We need buffers.
Are you a real estate geek??
YEAR END 2020
Annual State of the Residential Mortgage Market in Canada

By producing this report, we aim to create and share data on mortgage activity and consumers' attitudes that would not otherwise be available. This report also serves to interpret trends in the housing and mortgage markets, as well as in the realm of government policies related to mortgages and housing.

In addition to discussing consumer choices, attitudes, and expectations in the mortgage market, this Consumer Report looks at the economic and housing market environments in which consumers are making their choices.

Highlights from this in-depth report include:
Consumer Sentiment – How have Canadians feelings about homeownership changed during 2020?
Mortgage Market Outlook – What does 2021 hold for the mortgage market?
Housing Market Trends – Is it even possible to forecast this data?
Share this article on  your favourite platform