The Times are changing… Again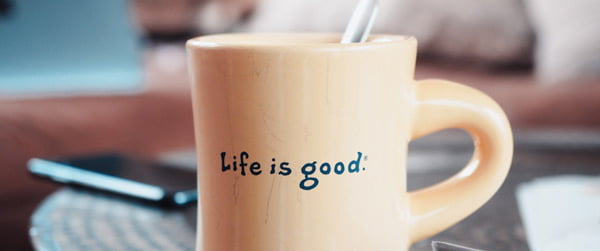 My past couple newsletters were about rates, economy and math; this newsletter will be a little more positive.
The past couple of months have passed in a blur. There were good days, busy days, frustrating days and days when I wondered why I chose this path as my career. People are scared and looking to feel a sense of certainty, wanting the security of homeownership and chasing their dream during a time when nothing is certain.
But, here I am. I am so grateful for the lessons I have learned. For the clients who support me, the messages of appreciation I receive. The rewarding feeling when I provide help and effect change in someone's life because of what I do for a living. Bringing understanding in uncertain times and doing my job makes my heart smile.
The times they are a-changing, again. Since 2008 we have been riding a roller coaster from one financial crisis to another. First, we had the global financial crash, and house prices tumbled, as did interest rates. Then, so much fear as pensions collapsed and our investments shrank.
Time passed, and we adapted.
HST was added to new build home construction, which caused a shock and a rush on homes in Ontario, as people thought the HST was on all homes, not just new construction homes.
Time passed, and we adapted.
The government introduces the stress test, and it changes the market again. With reduced qualifying, affordability shrank. Most first-time homebuyers were now competing at the same price point as those homeowners looking to downsize and the purchasers looking to move up the property ladder; it was a very crowded space. 
The majority of purchasers were now competing for the same price range, causing a further reduction in inventory and increasing the asking price for the homes in the $350,000 – $600,000.00 range. 
Some enterprising homeowners swapped homes with their parents who were looking to downsize. They gave mom and dad their smaller first home, and they took mom and dad's larger home to allow them to grow their family, this way, it was a win-win.
Time passed, and we adapted.
Then, we had a pandemic, and that story is still fresh. But, again, it brought out the fear of missing out on homeownership, and we saw emotional bidding at a whole new level. 
Followed by war in Europe, have you seen the price of pasta?
Followed by booming inflation. And here we are today. More uncertainty. 
Here's what I know. Like in 2008, 2016 and 2020, we will make it through. We always do. 
Time passed, and we adapted.
We have learned so much over the past few years. We learned what is important. We've made changes to whom we spend time with. (Remember the bubble?)
We've changed how we work and spend our free time. Do you have a pandemic puppy?
Currently, with the rising cost of food, I'm thinking about how to use every part of the vegetable and making sure I am only buying what I need. As with every spring and summer, I grow a lot of my food and store what I can, share and trade what I grow; this helps keep food costs down. I jokingly said to a client, well, I guess we will all be trimmed down; that's not a bad thing. The majority of us could stand to put down the treats.  
Life is more expensive. It's a good time for a financial review; cut what does not need to be there. Look at your auto subscriptions; I know I found three; I cancelled them. I'm starting to meal plan using less meat and more vegetables, plus I can also grow my herbs, lettuce and vegetables. You do not need a garden to grow food; you can grow food in any container as long as you have sun, seeds and dirt, no need to be fancy.
There are many ways to cut expenses, but it's hard to give up what we like and want. Really hard.
I believe by the end of 2024, we will be back to 2-3% inflation, if not sooner, interest rates will be 5%, and we will be accustomed to the new normal. We already see purchase agreements with conditions and prices under the asking price, and the market has definitely slowed down. PHEW.
Remember, time passed, and we adapted.
You are strong; you've got this. 🙂
---
Walter Update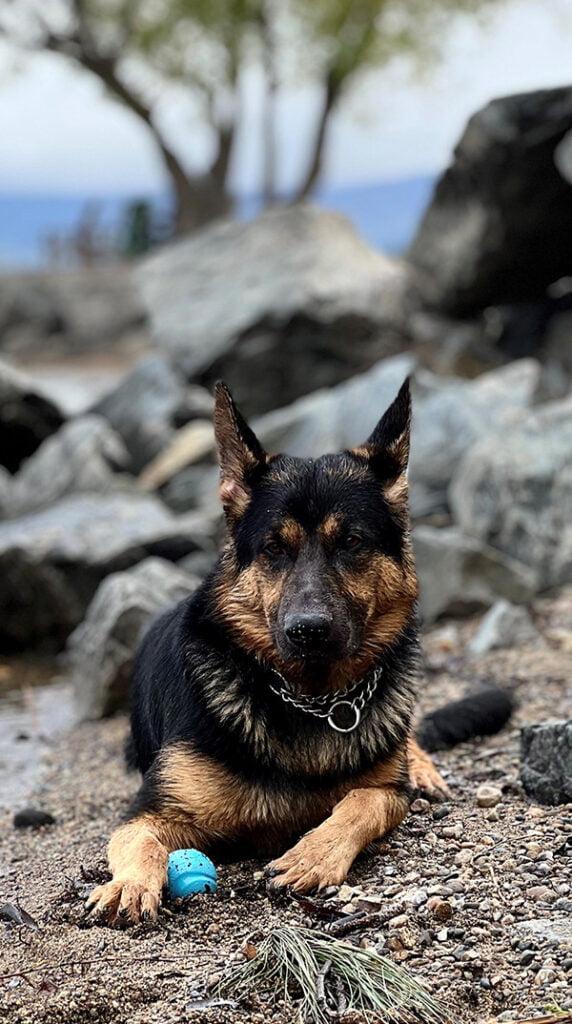 Age: 14 months
Weight: 96 pounds
Loves: Long walks on the beach, true story – and roasted cauliflower.
Dislikes: having his nails trimmed and his ears cleaned
Favourite game – fetch – he LOVES his ball.
Walter is still all puppy. He looks like Tiger from Winnie the Pooh if you could see him running; he bounds more than he runs and a good thing as he loves to chase his ball. To say he is hyper-focused on the ball would be an understatement.
Walter has been incredibly sucky since the big snip snip. I adore him.
Thank you to everyone who has reached out to Walter. He loves the attention.
---
How rising rates can affect your mortgage
The one-two-punch of supply chain issues and the war in Ukraine has pushed inflation in Canada to its highest level in 30 years and spurred the Bank of Canada to move toward a tighter monetary policy. On June 1, the Bank announced a second consecutive .5% increase to its policy rate (the third increase in 2022) and signalled its intention to continue increasing rates in the short term.
For homeowners with variable-rate mortgages, the effects of these policy rate hikes will have an immediate impact as lenders increase their prime lending rate in response. Depending on the terms of your variable-rate mortgage, you may see an increase in your payment or find that a higher portion of your fixed payment is going toward interest rather than principal.
After three consecutive increases, it's natural to start considering fixed-rate mortgages more carefully. Even if you are far away from renewing, many mortgage contracts will allow you to convert your variable-rate mortgage to a fixed rate but it is vital to make an informed comparison between mortgage types. In a rising-rate environment, variable-rate mortgages still have significant advantages that are worth considering. The key question is how high rates would have to go to make it worthwhile taking the fixed rate today.
People often prefer fixed-rate mortgages for their predictability, but this usually comes at the price of higher rates. The spread (gap) between fixed and variable rates today on 5-year terms is approximately 1%. That means that even with the Bank of Canada signalling further rate hikes, it would take several increases to make a monthly payment under the variable-rate contract equal to its fixed-rate counterpart.
It is also uncertain whether high interest rates will persist throughout your mortgage term. Even if you are motivated to consider a fixed-rate contract because of sharply increasing interest rates, you need to keep your eyes on the horizon as you sign with a new lender. Bank of Canada policy rates have been at or near historic lows since 2008. As the graph below shows, when the Bank raised rates aggressively, as it did in 2018, these hikes have been short-lived. When the Bank raised rates in April, it also projected that inflation would begin to ease in 2023. Before locking into a fixed-rate contract, it's worth asking yourself whether you will be paying more for security you don't need.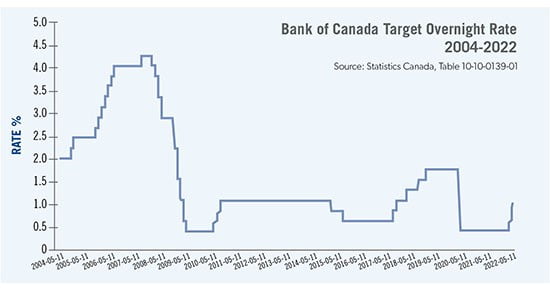 If you aren't close to the end of your mortgage term, there may be further costs to either breaking your current variable-rate contract or exercising the option to convert to a fixed rate. If you have the option to convert to a fixed rate under your existing contract, you may be charged a fee to do so. Moreover, your current lender may not offer you the best fixed rate, tempting you to shop around for a better deal. If you find one, you may pay a steep penalty for breaking your current contract to grab that deal. How much money will you save over the balance of your existing term?
If you are in a variable-rate mortgage and anticipate higher rates, but aren't ready to switch to a fixed rate, you can still take steps to protect yourself. Consider increasing your payments, if your current mortgage allows you, to the level they would be under a fixed-rate contract. Your larger payments will chip away at your principal, building a financial buffer against future rate increases.
If you have a fixed-rate mortgage, the rate increases that have happened and may happen in the future largely don't affect you other than the consideration around your renewal date. If you are renewing soon, it may be worth reaching out and having a call with me to discuss your options and consider various scenarios to make sure you're benefiting from the best possible monthly payment.
As always, a great way to begin navigating a higher-rate environment is a review of your situation to determine your best course. Whether you're ready to make a change, or just want to discuss your options inside your current contract, a short conversation can give a big boost to your confidence.
---
Rates
Hold on to your seats:
Prime: 3.70%
The next Bank of Canada meeting July 13/2022
High Ratio Mortgages – default insured
5 year: 4.29%
10 year: 4.64%
Prime 3.70% – 0.90% = 2.80%
Conventional Mortgages – 20% down or greater
5 year: .4.69%
10 year: 4.79%
Prime 3.70% – 0.60% = 3.10%
Refinance
5 year: 5%
Prime 3.70% – 0.50% = 3.20%
Rates are subject to change at any time, these rates should be considered a guideline.
Share this article on  your favourite platform