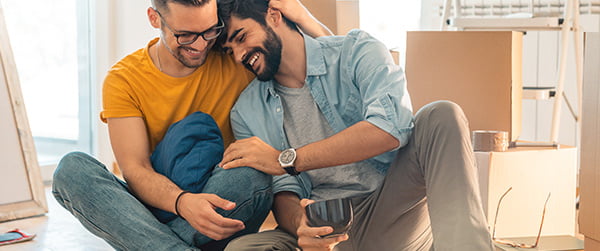 I have moved, and I have moved, and I have moved. Ok, I can say this at least eight times. Some might say I could be a pro packer. I am fast efficient, and what I pack does not break. Well, most of the time.
Here are my favourite packing tips.
Invest in packing paper – use lots of paper and or towels, rags, clothes. When you think to yourself, seriously, this is a lot of paper to waste, it's not wasteful, it's protecting the thing you loved enough to pay big, or even a few meaningful dollars to purchase this item that means a lot to you. What will it cost to replace? Use the paper, bubble wrap, towels, rags, and ensure that special item gets to its destination without being damaged.
Sharpies, yes, Sharpies. Colourful Sharpies. WRITE on the boxes.
Have a few bucks to spend, and you want to be CLEAR and detailed! Buy half to full-page labels.

Buy inexpensive but good printer labels.
Make labels for each room – Living room, dining room.
Mark the destination in the house – main floor, basement, second floor, garage
Number the bedrooms – put the numbers on the door and the label – example, Master
Bedroom Door #1
A separate colour for each room – for example, the label is printed in BLUE for Master Bedroom- Upstairs – Door #1 – all Master Bedroom labels would be Blue
Put a diagram or picture for each room or a number for example – Christmas Tree image = Christmas Decorations – Green INK – Basement – Storage Room – or door #8
Remember to put your family name and phone number on each label, just in case it goes missing.

Contractor garbage bags – you can get these at any Home Depot or Rona. They are thicker and more durable. Use them to cover your clothes on the hanger, slice the top, put the hanger through, and tie the bottom—large cushions, especially the outdoor ones. There are so many good uses for these extra-strong bags that you can donate to a construction/renovation company when you are done.
Buy MORE paper. You can donate the packing paper to the next person moving.
Use smaller boxes. Honestly, it's just easier. You can sell or donate them when you are done.
Take your time, start months in advance with the things you don't have out in the open—a drawer here, a closet there.
Pack like with like. All your books together, yes, you know you have books all over the house. It's an excellent time to go through them, throw away, donate, or pack. I repeat, pack like items with like items; you will thank me later.
Cut old cardboard boxes into various squares to put between your dishes; this is cheap and easy. If you have an exact knife, it's even easier. When your dishes go in the new cabinet without chips, you'll be grateful for the extra effort, and yes, you still wrap in paper. Unless you wanted new dishes and now have a way to have an excuse. Wink.
Put small parts with the item you took the parts from. This might seem obvious, but you would be surprised. For example, the screws you took out of the bed, don't put them in your pocket, put them in a ziplock bag, and tape the ziplock bag to a. secure but discreet part of the bed frame, so you know where they are at the other end.
Shopping List:
Colourful Sharpies – Staples, Walmart, Giant Tiger, Amazon
Packing Paper – packing – any hardware, moving, or storage store
Contractor Garbage Bags and Twine – Amazon, Walmart, Giant Tiger, Home Depot, Rona
Half or Whole sheet labels – Amazon, Walmart, Giant Tiger, Staples
Ziplock Baggies – sandwich size – Amazon, Walmart, Giant Tiger, Staples
Oh, ya and boxes, but this is obvious
Good Luck! If you have a packing tip I should know, send me an email. You never know when I'm going to move again. I'm my own best client.
If this blog is as clear as mud, call me. I am here to clarity, educate, and support you throughout the process. You may only apply for a mortgage a few times in a lifetime; I process mortgages several times a day. Lean on me.
Share this article on  your favourite platform